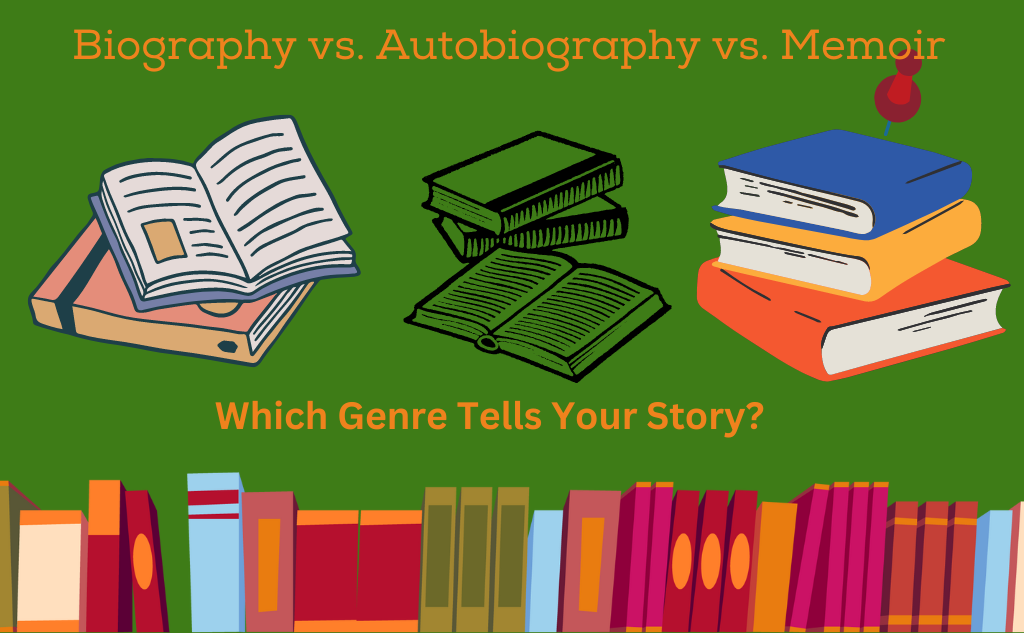 As a writer, it's essential to choose the right genre to tell your story effectively. However, distinguishing between memoir, autobiography, and biography can be confusing. In this article, we'll clarify the core differences between these genres and provide insights to help you choose the one that best fits your unique story. Whether you're interested in exploring your own experiences or delving into the lives of others, understanding the difference between a memoir and a biography and autobiography is critical to crafting a compelling narrative. So let's get started and discover which genre will best tell your story.
The Power of Biographies: Discovering Lives and Learning Lessons
A biography is a personal story narrated from real life. The biographies come in different sub-genres, but what they have in common is the factual loyalty. Biographies provide an in-depth look into the lives of individuals, whether they're still alive or historical figures. For a collection of famous biographies, you might want to explore Biography.com.
Professional bio writers usually conduct a great deal of research. They can describe the life events of someone still alive or a famous person who lived years ago. The author focuses his attention significantly on childhood, relationships, and ups and downs to create a complete picture of a person's life.
The distinct feature of the story is the writer's presence. That's where you don't align memoir vs biography: while people write memoirs alone, biographies require professional writers.
The main types of biographies include:
Contemporary biography: a story of a person who's alive and usually at the peak of their success. It can be about well-known entrepreneurs, musicians, or politicians. It can also include the people who are especially valuable at the moment or have done something great that you have to commemorate.
The examples are: "His Way: The Unauthorized Biography of Frank Sinatra" (written by Kitty Kelley) and "Robin" (Dave Itzkoff's intimate look at the life and career of Robin Williams).
Historical biography: provides in-depth information on the life of historical figures or people who died without the recognition they deserved.
The examples are: "Alexander Hamilton" (an epic 800+ page biography created by Ron Chernow) and "The Immortal Life of Henrietta Lacks" (written by Rebecca Skloot).
Group biography: the authors apply this type of biography quite rarely. One of the first examples is "A General History of the Pirates," narrated by Captain Charles Johnson in 1724. One of the latest group biographies includes an account of the life stories of famous British royals, "HRH: So Many Thoughts on Royal Style," written by Elizabeth Holmes.
Autobiographies: Understanding the Genre, Types, and Significance
An autobiography is someone else's story that doesn't involve a third party. A memoir writing service puts it differently because autobiography is the first person's account of events.
Autobiographies have been vital throughout history. They provide invaluable stories and thoughts, giving the audience an accurate impression of historical leaders and the value they represent. Also, they allow individuals to tell their own stories in their own words. For examples of famous autobiographies that have captivated readers, check out this list on Goodreads.
The main difference between autobiography and biography is that the last one provides a person's story written by someone else. The peculiar advantage that autobiographies provide is decreasing the number of discrepancies or mistakes. Hiring cheap ghostwriters for hire may be incorrect in describing significant events.
The types of autobiography include:
Traditional: a complete story narrated from the first person, discussing all significant events from birth, throughout childhood, and up to the present time. It's a challenging genre since a life story should be captivating and exciting to engage the reader.
Overcoming adversity: on the contrary, many people don't have as shiny lives. Some survived a series of challenging circumstances, such as assaults, murders, or other life-threatening situations. Sharing the story of the "survivor" might heal people undergoing a similar journey.
Intellectual: focus on critical events or experiences that have changed someone's perspective on life. Prominent examples include the "Autobiography" of the philosopher John Stuart Mill and "The Education of Henry Adams."
Fictionalized is a story that uses made-up characters to represent an author's experience. This autobiography reflects on actual events vs. serving as an accurate retelling of what happened. Some of the interesting examples are "The Way of All Flesh" (by Samuel Butler) and "A Portrait of the Artist as a Young Man" (by James Joice).
Memoir vs autobiography: what's the catch?
If you're wondering what does a ghostwriter do when writing a memoir, let's explore its main features.
Memoir highlights the essential part of someone's life. It can describe the critical historical period or a breakdown, focusing on the events that led to the collapse. That's where memoirs vs autobiography differ: the first ones only focus on particular excerpts instead of telling the whole story.
A memoir is a factual story in which the author reflects on a series of related events from their life or recounts memories from a particular period.
An autobiography is a chronological description of a person's life.
Although the memoir can be subjective, it must lean on facts. The authors choose a pivotal moment they'd like to shed light on and recreate the event using storytelling tools.
There's not a specific number of memoirs in a professional book writing history. Nevertheless, we will explore the most prominent types of memoirs to let you dive into the industry:
Transformation memoirs: tell about the most significant challenges authors These stories lead with the topic of redemption, whether you achieved it or you're trying to gain it.
The examples are "Here We Are: American Dreams, American Nightmares" (by Aarti Namdev Shahani), "Educated" (by Tara Westover), and "Finding Freedom" (by Erin French).
Confessional memoirs: reveal the painful or dirty secrets about authors or their families and how the particular series of events has affected them.
The examples are: "Confessions" (by Jean-Jacques Rousseau) and "Running with Scissors" (by Augusten Burroughs).
Professional or celebrity memoirs: describe the road to fame and success. Famous people often think about how to find a ghost writer to talk about their lives and significant events in a more professional tone.
The examples are: "I Am Malala" (by Malala Yousafzai) and "Just Kids" (by Patti Smith).
Travel memoirs: focus on exciting adventures that happen while traveling. These memoirs are often the most pleasant, allowing readers to escape everyday reality.
The examples are "Wild" (by Cheryl Strayed) and "A Year in Provence" (by Peter Mayle).
Autobiography vs biography vs memoir: where's your match?
You don't need to be a writing professional to comprehend the difference between memoir and autobiography and biography. Let's take a look at some of the key points to consider.
| | | |
| --- | --- | --- |
| Autobiography | Biography | Memoir |
| Subjective | Objective | Subjective |
| A story of one's own life | An account of another person's life | An account of specific experience or event |
| The person presents facts as they were experienced, from one point of view | The author collects information from the subject, their families, friends, and co-workers | Presents facts as the person described them, without third party interfering |
| Explains the motivation behind certain decisions | Establishes a context | Reflects the emotional experience |
| The person writes it later in life | The author can write it anytime, including after the death of the subject | The author can write it anytime |
| Provides access to one's feelings | Doesn't have access to personal thoughts and feelings | Provides access to emotional reactions and reflections |
The Bottom Line
Writing a book about your life is a challenging process. It requires lots of patience and a great deal of memory to recall the most significant events. Meanwhile, it allows you to look at your life and experiences from a whole new perspective.
If you need any help with writing a biography vs autobiography vs memoir, Penfellow will gladly assist! Our professional writers have years of experience completing similar tasks and will do the job for you. We will ensure the final paper meets your requirements and writing standards. Get in touch with us today to get your biography done in no time!