Admittedly, you are determined to start with a book and finally get your voice heard. It's only natural to face certain challenges, as many steps must be taken to achieve success and publish your precious creation. It is one of the primary reasons you must learn how to find a ghost writer. Even if you feel confident and know what to do, it's always much safer and faster as you can focus on the creative and writing process. Letting an expert assist you gives you time to tackle the author's tasks.
As you continue your journey through the guide, you will learn what is a ghostwriter and make the right decisions! The 'How to find a ghostwriter for a book' guide will help you learn about the challenges you may face and find the best ways to solve them by approaching professional help that works your way and matches your objectives and inner vision. Knowing how to find ghost writers will give you important freedom and knowledge to find help when you need it or when you want to get your writing checked by professionals. 
Learning a Difference Between a Ghostwriter, Co-author, Author, and Freelancer 
Before you continue your search, the most important thing is to learn the difference between the possibilities you will most likely encounter online before publishing anything. Whereas knowing how to hire someone to write a book is obligatory, don't be surprised to see different prices and various takes on the same thing. 
A ghostwriter is a person who is hired to write books from start to finish. As a rule, it can relate to fiction and non-fiction books, technical writing, manuals, speeches, all types of literary work, blog posts, articles, and basically anything. The core difference with book ghostwriters for hire is that the official credit and royalties are given to someone who acts as the piece's author. It is mostly used by athletes, music stars, movie actors, and celebrities who need a ghost writer for autobiography purposes (as well as other people who have something to say but do not know how to write it).
A co-author writes the book with you, an already existing author. It involves the inclusion of specific ideas that your writing partner has. Unlike when you find a ghost writer to do the job, both people must participate in the writing process and actively contribute. It's a partnership option, and you will have two or three names on the book's cover. This option is often chosen by scientists or writers who would like to work on some subject by pairing their efforts with another author.
Freelancer. It's a tricky option as you are dealing with a specialist who can help you either correct things or help you create an idea based on your thoughts. Of course, sending your 'find a writer to write my story' search will bring you to the websites where many freelancers offer their services without costing a fortune. Indeed, there are better ways to go!
An author is credited on the book's cover. They receive the royalties and the rights for intellectual property. Therefore, the most suitable solution for most authors nowadays is looking for ghost writers' help to gain suitable and good prices and contract requirements. If you want to create a reputation as an author or publish your manuscript that still needs editing and checking by the experts, it's the safest way to start to save you time and funds.  As you can see, it's much better to hire a ghost writer since it provides you with the maintenance of your intellectual property and offers more writing options to receive precisely what you require. 
Where Should You Look for a Ghost Writer? 
Since there are several ways to find ghost writer assistance, the most important thing is to check your options twice and compare the possible solutions. While the most popular option is visiting the freelance market, it's not the safest solution as most of these people are only starting. They can usually cover only the writing part, not the collection of the facts, and work with the post-editing and adjustments to the genre's standards.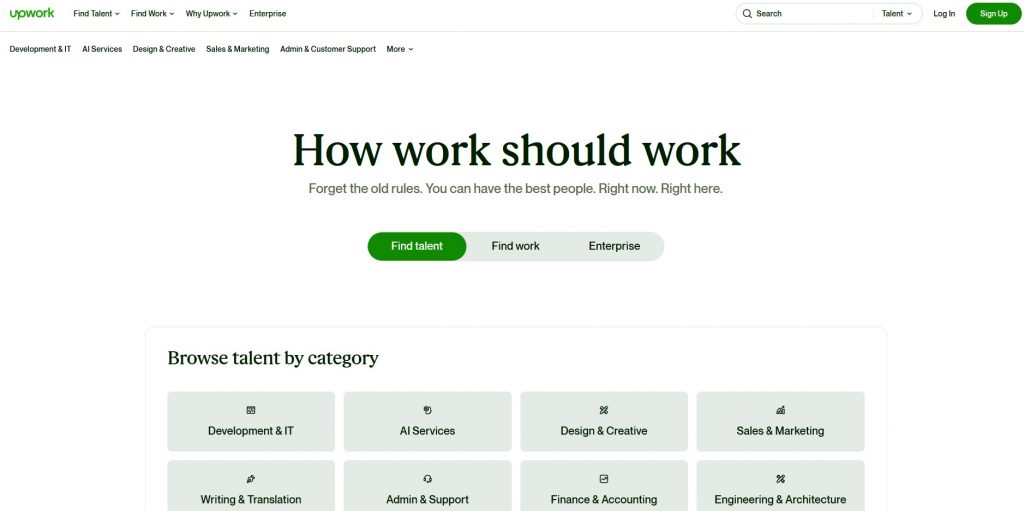 It is the most popular option for the freelancer market, yet the quality of the final product will always differ as you have yet to receive any guarantees. Before you learn how to hire a ghost writer, ask for testimonials and read online reviews to see what the other clients say and how the prices compare to professional agencies.  
Another interesting option to consider. It provides a better screening process for professionals in a certain field. It's mostly good when you seek speech writer services and wish to work with someone who has majored in Political Science or Journalism to provide specific writing. Knowing how to find a ghostwriter there is not always easy, so take your time and follow the recommendations or use only those offerings with positive reviews and a positive reputation.
It's a network of professionals where you can find trained professionals in the field. Although they work as freelancers, they are usually reputable names that can be considered a much safer option. It's the way to use networking and learning how to get a ghostwriter who may know someone you know well, thus forming a guarantee and recommendations. 
As you may already know, many professional agencies will provide you with writing help. Before you hire a ghost writer to write your book, you must see the requirements and ask for the company's work samples. Indeed, it should be the first step after you read the online reviews. For example, when you seek a professional bio writer and need samples of prior work or adherence to strict publishing standards and duties, it should be one of the first options to consider.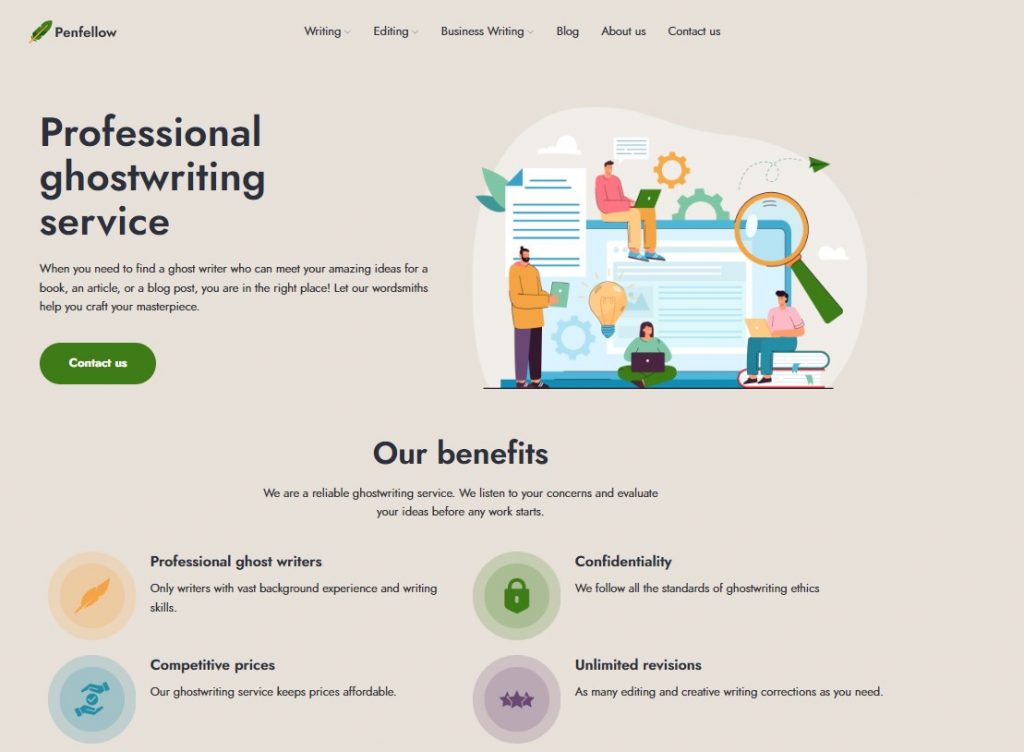 The most cost-to-quality option would be talking to the Penfellow specialists. They are known for a slightly different approach and focus on estimating the author's needs and covering a wide range of writing and editing services. Although you barely know how to get a ghost writer, you will remain safe with these specialists. They will approach each task individually to provide you with the best options and schedules to help you share information, format, design things, and the writing part that matches your vision fully. 
The Process of Hiring a Ghostwriter 
Looking for a ghostwriter can be quite time-consuming, yet it's a complex process that should be done exactly this way, as hurrying up can result in wasted funds and poor final quality. The most important is to come up with a list of questions and some ideas you already have. Ask yourself what you want to accomplish and what work methods suit you best. The most common points to consider before you learn where to find a ghost writer include the following: 
The main thesis and goal behind the book or any other type of writing. 
Sharing your personal experience or promoting yourself as an author. 
The amount you are willing to pay. Remember, ghostwriting is never cheap!
The time and resources you are ready to invest in the book writing process. 
The readiness to direct and guide the writer. 
You must ask questions and do your best to challenge yourself by discussing every point that you see important. When you show confidence, it will help your writer see the creative leads that you offer. 
You have to determine whether choosing a ghostwriter is suitable for you per se because this process involves working with another person and checking things. Most people find it overly challenging and need more time to be ready to cooperate. It won't work with the simple 'I need a ghostwriter' call and sitting back by doing absolutely nothing. Otherwise, the more time and effort you invest in cooperation, the better your results will be. 
For example, you must realize that you will have to answer the list of questions and also help conduct specific research to check the facts, conduct interviews, arrange special meetings, and go through the process of sorting information.
As you ask how do I find a ghostwriter to hear my points or if he knows how to write an ebook, you have to learn how to listen and follow the directions! It can be challenging, yet you have to be ready for that if you want to make your book or any other manuscript ready for publishing. There are many editing sessions that you will have to maintain to ensure that everything is correct. Since it's only a part of the book writing process and cooperation with a ghostwriter, you will enjoy the best solutions that are provided by our specialists. 
What Should I Give and Get From a Writer Before Hiring?
As you discuss things, search for credible reviews, ask for samples of the writer's work, and reach out to previous clients. It will help you to determine the writer's style. Now, how do I hire a ghostwriter based on my genre? The most important is asking for samples of relevant works, a natural process indeed. It shows if your ghostwriter for book creation feels confident and ready to share one's work. You must make sure that your ghostwriter knows the specifics of your genre and feels ready to explain and discuss your creative ideas. 
Afterward, determine and outline the rules, deadlines, budget, payment terms, intellectual property protection, royalties, privacy matters, and other contract points. Remember, before you ask how to find a ghostwriter for my book type and purposes, you should discuss things, and most companies won't (or should not!) provide you with the prices or the deadlines. A high-quality company will always estimate and analyze things first and only then provide you with the outline and their possibilities! 
The Philosophy Behind Our Ghostwriting Service 
Asking where can I find a ghostwriter that won't let me down; take your time to see the following option. At Penfellow, the writers follow a strict philosophy of an individual approach to every task and project. Suppose they are dealing with children's literature. In that case, they will walk the extra mile to meet the needs and expectations of the younger audience by offering excellent editing and clarity based on their skills. Likewise, if the talk is about history books, experienced specialists will check every source and fact to ensure the final product is accurate. As people ask how to hire a ghostwriter for a book based on a specific genre, the people behind Penfellow will discuss things with you and offer an efficient solution based on your budget and the initial requirements. 
What makes Penfellow different is the range of available services, including unique editing, proofreading, checking of the content, structuring, gathering, sorting of the information, and adjustment of an already existing manuscript. Knowing how to find and hire a ghostwriter at the company is much easier because you only have to share your requirements and talk to creative specialists with years of experience working in the field. They will not approach things commercially but listen to discover and help unfold your inner vision. 
As you find a ghostwriter for book purposes, you are dealing with native English speakers with vast writing experience, accuracy, and adherence to the genre and writing standards. The prices are always competitive, and the contracts follow strong ethical and author privacy standards. If you are worried about keeping your content safe, we shall find the most secure methods of cooperation or can schedule online discussions based on your preferences. We always remain professional and know the industry standards where your privacy remains a priority! 
Another important benefit of choosing Penfellow is the attitude to the cooperation process, which can include a virtual and physical collection of elements and data for writing purposes. The specialists of the company also provide unlimited revisions and assistance with publishing. As people ask how to find a good ghost writer, the experts behind the company will talk to you and determine what you need before presenting you with a clear outline of options, budget calculations, and possibilities. We are also doing our best to provide you with excellent editing, structuring, formatting, and proofreading. As we prepare your content, it will become ready for publishing purposes and will impress you with precision and high-quality structuring. 
What makes Penfellow unique is that they will always stay in touch and help you with any concerns. How do you find a ghostwriter and know the person is the right fit? The answer is simple: just get in touch and let the trained specialists guide you through to success! 
FAQ 
What is the average price for a ghostwriter? 
The prices are always negotiated with a customer and vary from company to company. An average for a double-spaced manuscript page can be either a two-digit number or even become much higher. For instance, if we deal with a book of around 150 pages, we shall end up with thousands. Still, if you need a ghost writer, you must discuss the price and see what exactly is included and what additional features and discounts are offered depending on the genre, volume, and all the additional work. Many prices may or may not include additional editing work essential for publishing. 
Is it worth it to hire a professional ghost writer? 
Every writer should decide independently If certain challenges are encountered, like fact-checking, editing, working with structure, and formatting the book, it is definitely worth it. Some people have stories to tell but do not know how to write them down. If you are one of them, you must learn how to find a ghost writer and take your time to explore the options working for you. The most important thing is finding someone with the same brainwave as you are!
Is the practice of ghostwriting legit? 
Yes, ghostwriting is legal since we are dealing with an agreement between the author and the ghostwriter (a company). It makes it legit since we only deal with two parties without violating any law or making a false claim. Of course, it is ethical for all writers, yet the 1978 Opinion 1414 act shows that ghostwriting is a permissible practice as long as the disclosure requirements are followed. Therefore, looking for ghost writers is a natural practice these days since many people want to get their thoughts and ideas published! 
What are the benefits of hiring a ghostwriter? 
Hiring a ghostwriter has numerous advantages because you will learn how to do things correctly and follow a particular genre's conventions and rules. Some other benefits include professional editing, checking the relevant terms, and getting valuable information written down correctly. If you need help knowing where to start and what to choose, a trained expert will always help you! Since finding a ghostwriter is way easier these days, there is no reason to ignore this possibility if you plan to benefit from the bestselling book. 
Choose Reliable Ghost Writing Help Now! 
If you are ready to publish your book or have an amazing idea that the world needs to hear as soon as possible, you must not think twice and seek other book writing companies as we provide you with the most flexible and efficient solutions. As you have already learned how to hire a ghost writer, you are already head and shoulders above others who are only starting to explore this subject. All you have to do is send us a message and start a discussion with our specialists. They will not calculate an approximate cost, define the final deadline, and provide you with the various writing options and the best ways to unfold your creative talent. 
When finding a ghostwriter that works for you sounds like a terrible challenge you are not ready to overcome, consider your troubles over. You are only a few clicks away from meeting the team of creative writers and editors with experience in various genres. Moreover, they will happily let your creative and writing talents shine. Regardless if you seek ebook ghostwriter services or need a trained editor for children's literature, we always let you control the writing process from start to finish. We care for your needs and know how to help you find a ghostwriter and become one of our happy customers!