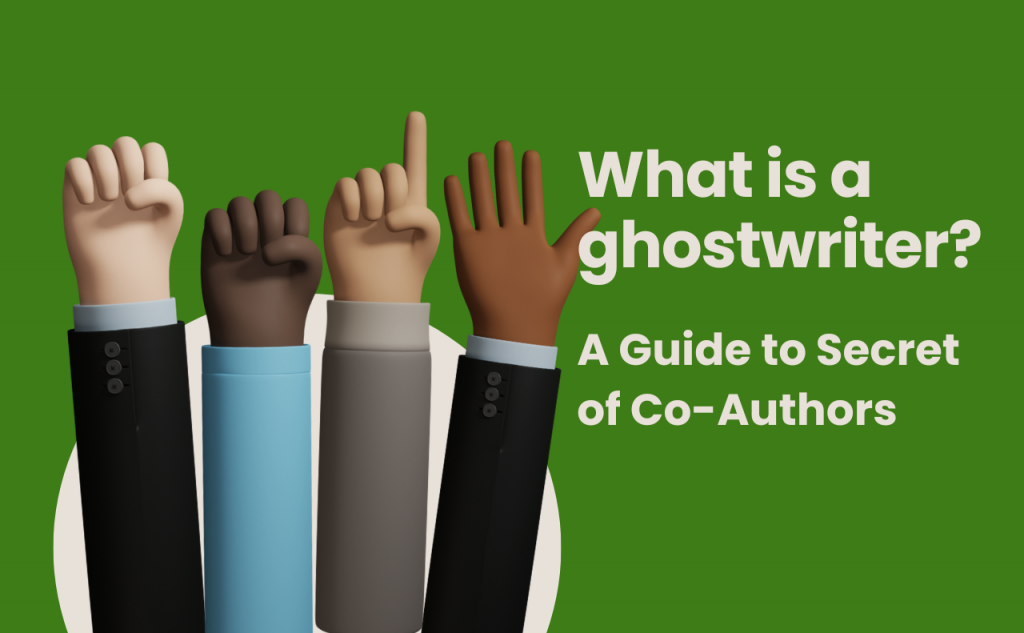 Did you know that "The Count of Monte Cristo", one of the best novels ever written, was likely created by a ghostwriter? Alexander Duma may not be a fraud, but there's a big chance he did a lot of work in collaboration with Auguste Maquet, who remained uncredited.
What's ghostwriting, and why do people call it so? Being a ghost writer means writing a story for someone else while remaining anonymous, allowing the person commissioning the work to claim full authorship. The term "ghostwriter" comes from the idea that these writers work behind the scenes, like a ghost, to create content without receiving public recognition. First, the romantic myth of the solitary, brooding writer, we were all falling for a few years back, is not there anymore. The writers no longer isolate themselves on a lonely island with a cigarette in their mouths.
Instead, modern ghostwriters often work remotely and collaborate with clients through various digital platforms. A ghost author (or a "shadow writer") can work on a wide range of requests, from speeches to celebrity memoirs, and even academic papers. The definition ghost writer implies that they must collaborate closely with their customers to understand their voice, ideas, and goals, ensuring a better result that truly reflects the client's vision.
What types of ghostwriters are there?
A professional writer known as a "ghost writer" would write a book while keeping the author's name on the cover. In other words, even though they do most of the work, they don't get credit as the original authors.
There are billions of opportunities for finding a ghostwriter for startups or existing businesses. Here are some of the most popular ones, that will provide the ghost writer definition:
Song ghostwriters. Even Mozart once got a side job as a ghostwriter to write music. The affluent clients asked him to do that, wanting to show off themselves as gifted composers. These wealthy patrons would commission Mozart to create custom compositions, which they would then claim as their own work in public performances or social events. By doing so, they hoped to elevate their social status and impress their peers with their apparent musical talent. Little did they know, their secret weapon was one of the greatest composers of all time, working behind the scenes to create their masterpieces. So if you're wondering what does a ghost writer do, here's your answer – it's someone standing behind the curtain when the applauding begins. Music ghostwriters are no exception: they receive payment for their contribution but don't get their spot on the list of music creators. Many were involved in popular music history as helpers for less experienced songwriters. Film and television recruiters often hire ghostwriters to create music and lyrics for big projects. It saves the deal on existing team members and cast and allows for speeding up the process offering fresh perspectives for composers.
Article and blog ghostwriters. These ghost writers focus on creating articles and blog posts for websites, magazines, or other publications, often adhering to specific styles and SEO requirements. A great ghost article writer may be just around the corner. Filter the specialists on websites like Upwork, Fiverr, Penfellow and other freelance websites based on their expertise and years of experience. You won't need to organize an onboarding process or follow the hiring procedure. You'll save time and money for more projects!
Business ghostwriting. Many business owners and celebrities hire autobiography writers to tell their stories. It's only one of the aspects in the book history that marks a recently growing trend for sharing personal experiences. The ghostwriter might receive a request for editing once the author has finished the copy. The other thing showing what do ghostwriters do is creating "how-to" books, fitness or diet guides, and cookbooks. The publishers gladly capitalize on such projects as loyal fans will definitely buy such books, even if the phantom writers actually did the writing. An additional opportunity for book writers for hire might be an independent consultation regarding an upcoming project. They cannot write the book themselves but perform research for coaches in their chosen niches.
Novel ghostwriter. It's hard to imagine how many famous books could have never found their way to a publisher without the phantom writers assistance. We've already mentioned "The Count of Monte Cristo" by Alexandre Dumas, but how about "Goosebumps", a children's series by R. L. Stine, or William Shakespeare? Publishing agencies use fiction ghostwriters for hire to do books for well-known authors. Unlike non-fiction books or romance novels, the person who uses ghostwriters must understand the specifics. For example, a process can take longer because writers immerse themselves in previous publications. The work can also include writing for pen-named authors who use a pseudonym.
Screenplay and speech ghostwriters: Screenplay ghost writers specialize in writing scripts for film, television, or stage productions, working closely with clients to develop a compelling story and strong characters. Speechwriters, on the other hand, craft speeches for politicians, business executives, and other public figures, ensuring the speech is engaging, persuasive, and tailored to the speaker's voice.
Academic ghostwriters: These ghostwriters specialize in writing academic papers, essays, and research articles for students or professionals who need assistance in completing their work.
Each type of ghostwriter brings unique skills and expertise to their work, allowing them to cater to the specific needs and requirements of their clients across a wide range of industries and genres.
What are the legal aspects of being the ghostwriter?
Now that we've clarified how do ghost writers work, let's dive into the legal and ethical aspects.
First of all, ghostwriting is legal. You can breathe out at this point since there are no implications, and the experts agree that professional ghostwriting won't compromise the law. On the other side, you should take into account the following:
Contracts;
Historical precedents.
Once the author and a ghostwriter agree to work together, they sign a mutual contract. If both parties agree and abide by the contract terms, they have nothing to worry about. The problems start when one of the parties doesn't act as expected and starts to violate the agreements.
Here's what you should clarify for legal professionals:
Compensation: ghostwriters receive great compensation for their efforts. While you don't get credit as the author, the publishing agency will award you for providing copy on time.
Plagiarism: the ghostwriter must provide 100% plagiarism-free text. It's pointless to publish something that's already been written. Moreover, it will have a bad impact on the author's reputation.
Rights on intellectual property: Ghostwriter is a professional, who hands over all rights to the work they produce. They also must sign an NDA (non-disclosure agreement) to prevent sharing sensitive information.
Violation penalties: besides the working conditions, your contract must involve the penalties for both parties in case of terms violation.
Termination agreement: predetermined rules to account for the scenario when one party wants to end the agreement.
From an ethical point of view, ghostwriting might sound controversial. Many people pursue it as cheating, refusing to read anything not written by the acclaimed author. While ghostwriting can be a beneficial practice for many, it's not without its ethical considerations.
But spelling to the truth, the person who is ghostwriter, is more like messenger, creating high-quality content from original ideas. Their names might not be on the final product, but they knowingly enter into this agreement to receive payment for their work. Thus, unless you skip the legal part of the process, you'll be fine on the ethical side.
The main ghostwriting benefits and disadvantages
Learn the benefits of what is ghost writing below:
Immediate compensation: ghostwriters don't worry about publishing rates, if the book will sell, etc. The work is done and approved, the requirements are followed, and the process is on track to promotion. They can move on to the next project – this is the perfect ghost writer meaning;
Earn while pursuing your projects: as professional bio writers or book writers on freelance, they can work on their brand;
Work on any possible topic: while pursuing the defined projects you're good at, you may expand the range of topics with the ones you're interested in. You can learn much if asked to write about a self-help book, the Vietnam War, or house design. Ghostwriting is perfect if you are interested in various subjects;
No need for special credentials: you don't have to present specific certifications or degrees to enter the field. As long as you can listen carefully and write well, you can become one of the memoir writers writing for former presidents or movie stars;
Focus on writing, nothing else: ghostwriter definition means that your responsibilities end when the project ends. You don't have to take over the promotion and publishing process. As a ghostwriter, you don't make public appearances to promote the book. Leave it for the signed author.
It sounds great, but are there any disadvantages to becoming a ghostwriter? Let's see!
Ghostwriting is quite competitive: more and more people today are learning what it takes to become a ghostwriter and how to enter the field. While many opportunities are available, not all of them would appear on the job boards. You need to keep calm while looking for the first potential assignment;
Give up a byline: don't take your hopes up since there's zero chance your name will be listed on the finished product. Read the contract carefully to get to know your rights and determine whether a byline is important to you or someone else will take the credit for your work;
Prepare for fast turnaround times: the client might ask you to work extra hours or take on more research to finish the project on time. People who know what is a ghostwriter for a book value the professionals working in a pressuring environment.
It's not always interesting: we've talked about taking over various projects, but it's possible you'll not enjoy the topic you write about all the time. Things may be beyond your expertise, and it is your call to continue writing or hand it to another specialist.
Summarizing the main points
So, if you read all the way through here, you should no longer have a pending "what is a ghost writer" question. Despite any possible drawbacks, working as a ghostwriter for others can be a fulfilling way to make money while pursuing your interests. Employing a ghostwriter can be the best choice you ever make. For instance, many people desire to write a book but have yet to accomplish it. However, they find writing a book's structure difficult. Maintaining organization and producing writing that is coherent and legible can be challenging. A ghostwriter can help you realize your dream of writing a memoir for your descendants, a "how-to" book, or an amazing autobiography.
If you're struggling with writing a book, biography, or memoir, you can hire a professional writer at PenFellow! We will find the best writer for any genre or service you have in mind. Our specialists will give your thoughts a fresh perspective to make them shine in the publishing world!