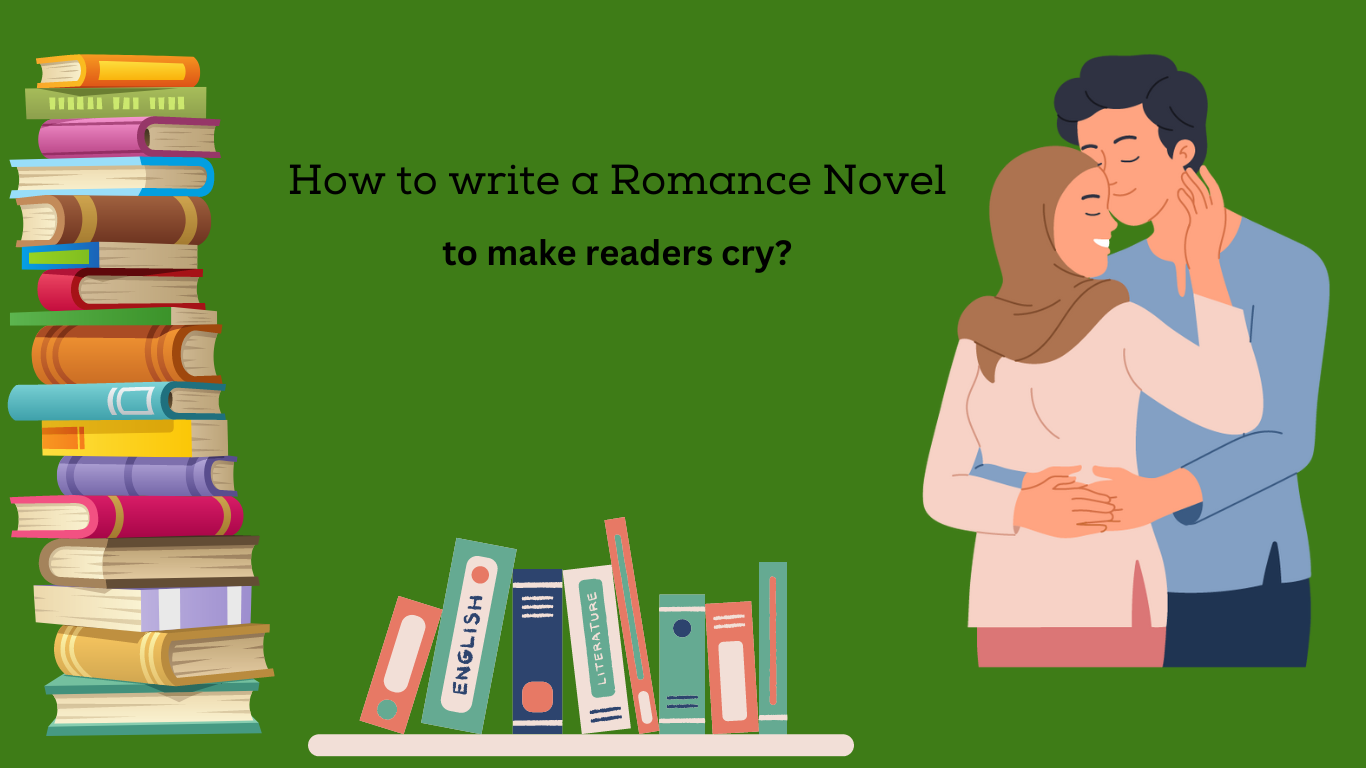 According to statistics, more than 47 million romance novels have been sold in 2021 alone, with both print and e-books combined. It marks a 24% increase compared to 2020. As the pandemic started, an even greater increase has taken place that is still to be calculated.
While a few people will admit to reading romance novels, they are always popular. They are reviving as people seek stories focusing on the purity of relationships and romantic love. As we live through the digital age and lack of relationships, turning to romance novels often becomes a solution. If you are unsure what fits within a romance novel, it is a subgenre of fiction where an author tends to provide prose based on a love theme. When writing a romance novel, you should focus on developing a romantic relationship as it unfolds through the book's pages.
Who reads romance novels?
Another important change that has taken place is related to the target audience. While most romance novels have been read by people aged between 35 and 54, romance novels' target audience has been shifted down to people aged between 18 and 34. It must be noted that people in this age group tend to purchase print versions of romance novels instead of digital ones.
Most people often feel confused as they try to determine the difference between a fiction novel and a romance. The key difference is that your novel must remain true to what might be possible and the ordinary course of events. Writing romance novels speaks to the truth of the human heart and all the processes that always take place. As an author, you must create specific circumstances and an environment to reflect on love, overcome dark heartbreak, nurture happy and sorrowful relations, and more.
Basic information about romance novels to consider
Contrary to popular belief, romance novels have no strict rules, as we can have a lengthy novel like Anna Karenina by Leo Tolstoy or a modern short novel that relates to urban detectives with a romantic line. Now, many romance novels are often turned into movies or TV series. One of the most famous books includes Jane Eyre by Charlotte Brontë or a classic English romance novel called North and South by Elizabeth Gaskell. If you wish to receive a more classic structure, consider Pride and Prejudice or Emma by Jane Austen, as these novels include all the perfect and inspiring elements.
Now, let's create a basic romance novel formula checklist:
Romance novel length:
Romance novels are usually between 50,000 and 90,000 words, yet there can be certain exceptions, depending on the sub-genre. Roughly, your romance novel should fit within 200 pages.
The main focus should involve a central love story with the basic background character traits. It's also possible to consult an expert if you need help! Note that no matter your expectations, you must discuss things and ensure you are on the same brainwave as a ghostwriter. Most book writers for hire will relate to creative personalities that may fit you right away.
You may alternate between the series of romance stories and the single-title romance. The series is usually published monthly and usually tends to be shorter. The single-title romance novels are usually longer and may last between 300 and 400 pages. At the same time, when you have a single title, it may have a continuation and still belong to the upcoming series.
Personification:
Most romance novels must be written in the third person. It will help create space and discuss the vision of a person who falls in love and another who may feel or may not feel the same way.
The use of the first person through the eyes of a protagonist can be used by those authors who employ romance memoirs. Learning how to start a romance novel in the first person, analyze things twice! While it sounds inspiring, it is a lot of work as one limits what the main character can reflect.
The common rule is to use only one POV, as doing otherwise can confuse the reader. Writing in the third person may include short passages, memories, or flashbacks where an author can use a letter to add more personification.
● The time factor:
While it may seem easy to write a romance novel (since we all have something to say about relationships and love!)It is actually one of the most challenging genres. You must use strategic thinking and analysis to work on the dialogues and romance plot structure. Make things inspiring, as you have to keep your audience inspiring. Therefore, the average time to complete a romance novel would be around 180 days or about six months.
Step-by-step how to write a romance novel guide
Step 1: Choosing a subgenre
Before writing and creating a setting for your romance story, you must focus on the subgenres. Things can be summed up into ten sub-genres. While you can focus on the central love story with a happy ending, you can add a specific tone and style. Start with the timeframe, location, and even the country where the story occurs. These little explanations below will help you choose the best method for your ideas:
Contemporary In this case, things take place after 1945 by reflecting on social issues of the modern times that take place after the end of World War II.
Historical Romance. In this case, your setting must start before 1945.
Romantic Suspense. This sub-genre must include various elements of mystery and suspense. It is your solution if you must solve a riddle in your romance novel structure!
Inspirational Romance. You may explore spiritual and religious aspects here. As a rule, there should be no intimate scenes, violence, or foul language.
Paranormal Romance. In this case, you can combine the love story drama with supernatural elements based on any historical or modern period.
Science Fiction Romance. If your book takes place in an alternate world, choose this one.
Fantasy Romance. While it's not science fiction, it can sound like a fairytale.
Time-travel Romance. In this case, you may start your novel in the present day and travel back to talk about the past and the longing.
Multicultural Romance. This sub-genre explores the subject of love between different cultures or couples that belong to different races or social backgrounds.
Young Adult. Such romance novels focus on the lives of young people and are usually more adjusted to high school or college
Step 2: Creating a romantic lead.
Creating romantic leads should be different from ticking all the possible boxes. We can often see how it's done incorrectly in vanilla movies, where one can easily see what will happen. Plotting a romance novel, focus on the perception of things instead and think about the setting and the target audience. Think about the plotline by exploring a problem.
A romantic lead should showcase why people care for each other or why a conflict takes place.
Reveal why the passion takes place and explain the goals of both characters.
Create a starting scene where something happens and creates a turn. For example, Mary ignores John's offer to bring her a cup of coffee, or John fails to listen to Sally as she talks about her fears. It creates a conflicting situation where the relationship is being explored. Show the change and explain why it happens.
Step 3: The world-building aspect.
The setting is truly important as you should alternate between descriptive language and the focus on the character plot. World-building is essential unless you write in the first person and reflect on your memories. Basically, after learning how to write good romance, you must explain where your story takes place, so no limitation should be present. Include the landscape, set the tone, and connect the values of the times with the story's moral. As a rule, you must have an outline that might look this way:
An incident represents an emotional outbreak that sets the story's start. If you are unsure how to deal with this part, a ghostwriter's help can be useful! Some famous ghostwriters from history include Mark Twain, Raymond Benson, H.P. Lovecraft, and Peter Lerangis.
Building romantic tension with the analytical and explanatory part.
A couple may get together or almost get together as obstacles occur.
A couple is torn apart as a betrayal or a heartbreak takes place.
An explanation takes place.
Happily ever after.
Step 4: Romantic tropes.
At first sight, love is where an unexpected thing happens, where people from different social circles fall in love.
A love triangle where competition for love takes place.
A secret billionaire aspect.
Friends that suddenly turn to lovers.
Stuck together through a challenging situation.
When the enemies become lovers.
Forbidden love (rich vs. poor, hostile families, etc). See Romeo and Juliet as an example!
A second chance where love is given an opportunity as forgiveness takes place.
Soul mates with an element of romance.
Step 5: Intimate scenes.
It will always depend on the sub-genre as you must decide whether an intimate scene must be present in your novel. You have to find the right balance to keep things decent. For example, if you describe a love scene and outline a romance novel style, talk about the passion, emotions, and feelings, not the process itself! If you are dealing with a young adult romance fiction novel or a Christian romance book, such types of intimacy and adult scenes are better avoided.
Step 6: Character development.
Remember to show spiritual growth or a mental decline as you work on your character, depending on the situation.
Most authors implement the power of love to change a person and unfold the positive sides of a character.
Think about comparing your different characters or provide examples as you add descriptive language.
Check twice as you describe the hair color, height, common traits, and more.
Step 7: The final scene.
You must decide whether you need a happy or a sad ending. Remember that the final scene is essential! Some romance novels have a bittersweet ending where hope and love still remain, yet the loss or a broken heart still takes place, as one can see the main character's vulnerability.
Tips and tricks from famous writers for a romance novel
As a way to inspire you, think about these quotes from those who have motivated many to complete excellent romance novels:
There is no remedy for love, but to love more. (Thoreau)
I love you, and that's the beginning and end of everything. (F. Scott Fitzgerald)
Who, being loved, is poor? (Oscar Wilde in A Woman of No Importance)
Love has nothing to do with what you expect to get – only with what you expect to give – which is everything. (Katharine Hepburn)
My heart is, and always will be, yours. (Jane Austen, Sense and Sensibility)
Love is just a word until someone comes along and gives it meaning. (Paulo Coelho)
And I'd choose you; in a hundred lifetimes, in a hundred worlds, in any version of reality, I'd find you, and I'd choose you. (Kiersten White in the Chaos of Stars)
Where there is love, there is life. (Mahatma Gandhi)
Now, some recommendations to consider must include the following tips for writing romance:
Show a conflict as you describe the challenges that one must overcome.
Narrow things down to the events taking place and keep the content logical.
Romance novels are usually presented through the lens of a woman.
Provide at least one strong-willed character to set a point and determine the dynamics.
Create a list of moral principles and strive for unconditional love.
Think about a mystery and a plot twist to decrease the probability.
Note: Remember the social issues and peculiarities of the times when the novel is set.
How to make your romance novel ideas stand out?
As you have concluded the guide explaining how to write a romance novel, we are happy to assist you with anything from helpful ideas and writing to final editing and publishing. As a team of professional ghostwriters working in relevant genres, we know what is expected and always follow strict standards to help you succeed. Look no further when you feel stuck and need to edit, format, get helpful writing romance tips, and check your romance novel manuscript for accuracy, strength, and reading dynamics! We can guide you through every challenge. Keeping things fully original, structured, and affordable, we shall help your romance novel ideas achieve success!
FAQ
Can you define a 3 act structure for romance novels?
Basically, when you approach a three-act story structure, you have to divide your manuscript into a beginning with a plot twist, a middle part with the story unfolding, and a conclusion with a strong climax. The first and the last acts should represent 25% of the content, while the middle should be 50%. The beginning should provide a setting with the conflict notes about the issue. The second part should discuss how the conflict unfolds and what barriers occur. The final place should show the role of love and relationship to come to a certain conclusion.
What person should I use for a romance novel?
Most romance novels are written in the third person as the author gains wider coverage by allowing the readers to see the world through the different characters. At the same, you may write in the first person, depending on the sub-genre. If you are starting with flashbacks and time-travel novels, you may focus on the protagonist. If you need more clarification, feel free to talk to our specialists and determine which is better for you.