Fiction ghostwriting services online
When you want to create a fiction story or cannot wait to share your fantasy vision with the world, hurry up to contact our ghostwriters to discuss your ideas and find the most efficient writing solutions. 
We are ready to provide you with all types of fiction ghostwriting and non-fiction work based on your requirements. We guarantee that every note and idea will be implemented in writing. When you want to explore additional writing help, you may hire a fiction ghostwriter and enjoy: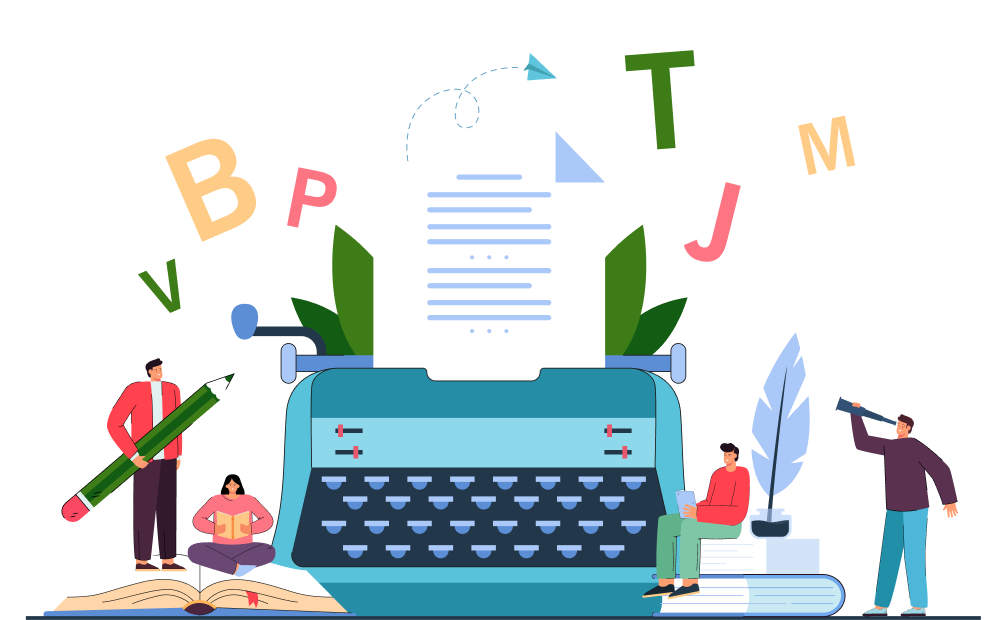 Our benefits
We are a reliable fiction book writing service. We listen to your concerns and evaluate your ideas before any work starts.
Fiction ghostwriting: bring your ideas to life
When you want to make your science fiction writing or drama story read by the world, the most efficient way to make things work is to use fiction ghostwriting services. It means cooperating with a professional writer and editor who can help bring your creative ideas into perfect written form.
Types of fiction ghostwriting services
You have an idea for writing a fiction story? It is essential to find out more about the types of fiction ghostwriting services that you can receive from our writing experts. Here are the most popular fiction types to consider as you contact our book writing service:
Romance fiction ghostwriting services. If you want to keep your writing dramatic and inspiring, composing a romance book is what will let you achieve success. We shall help you work with your notes and develop the characters. Our ghostwriters will assist you through every step by keeping the emotions high as your ideas become written down in the best way possible. 
Action-based & adventure novel. It is basically a story that has an element of adventure and action. It is most popular with the male audience as it keeps things inspiring and such books are often turned into movies. We shall help you achieve success with your action ideas! 
Science fiction novel. It is one of the most challenging genres to work with. You have to look into the possible future or deal with ancient times. You have to let the imagination flow freely and provide your readers with a mixture of fantasy and realism. We have specialists in this field and will provide you with great solutions. 
Fantasy novels. Fantasy novels must be descriptive, which is why turning to additional writing help is essential. Even famous writers approach fiction ghostwriters' services when they need special gifts to express their ideas and use the right words. 
Suspense & thrillers ghostwriting help. The key to this genre is the creation of a detective story and the suspense to the best standards of creative fiction. You only have to contact us and let our specialists hear your story as we adjust things and create all the twists and turns to keep your audience inspired! 
Drama writing. When you need to add drama to your composition or create something specifically for the theater production, our experts are ready to assist you! You may also make your writing custom if you need grant writing services based on what the storyline requires. We know how to adjust the drama for television or a certain production. 
Mystery stories. If you want to become the next Agatha Christie or create a character who solves mysteries, you are in the right place. We love to work in this genre! 
Children's fiction literature. This type of writing must be done with genuine care and attention to detail. Our specialists know how to edit your ideas and make them accessible to the age audience and the writing standards of the genre. 
Young adult ghostwriting. This genre includes all types of fiction for young adults between 12 and 18 years of age. If you want to target this category, we are ready to help you get your story written! 
Novella & short story writing. If it's only a short story that you want to deliver, we know how to keep things inspiring and condensed to make narration memorable and impressive. We also provide assistance with publishing in the required format, so if you need ebook ghostwriting, you should specify the formatting or listen to our experts to choose the best method. 
Urban fiction stories. It is a cultural phenomenon in writing that discusses life stories that take place in the city. The tone of such writing is usually dark and expresses all the harsh realities of urban life.
Of course, if you want to choose something that does not belong to the aforementioned genres and sub-categories like Christian fiction, you only have to talk to our fiction ghostwriters for hire to determine what kind of writing is most suitable, based on your ideas.
The advantages of our fiction ghostwriting services
Dealing with fiction ghostwriting, you will encounter numerous challenges and mental barriers that have to be resolved. Unlike business book ghostwriting, fiction literature is a totally different matter where you have to keep things creative and add the element of fantasy. When you cooperate with our fiction writing experts, you can benefit from the following:
Our ghost writers will carry out extensive research by turning to discussion and analysis of your notes. 
We listen to you and start our cooperation with a creation of an outline. It helps to make the writing process clear as you know what is expected and receive timely alerts when there are changes done or something that must be discussed. 
Every fiction ghostwriter for hire has experience in various fiction genres and keeps things 100% original to avoid plagiarism issues. 
We offer professional editing services and keep the style and tone flawless. When you have to write science fiction or a book for youngsters, our editors will make sure that there are no spelling or grammar mistakes. 
Critical analysis is always provided. It means that if your notes are more suitable for another genre, we shall leave our suggestions and show you what type of writing is the best and most affordable solution for your fiction ideas.
When you turn to our ghostwriting company, you also enjoy fast delivery methods and a dedicated person who will always address your concerns. If you are unsure about what must be done, we shall help you with the creation of creative plots where we provide unlimited revisions by keeping things fully original. As progress takes place, we keep you updated. We follow the highest writing standards and ethical principles as we write and communicate.
Why approach professional ghostwriting help now
We are a reliable ghost writing service that provides you with detailed assistance and analysis of your fiction writing ideas. Starting with the basic discussion and creation of the writing outline to reliable editing and publishing help, we provide you with the most efficient solutions to help you achieve success.
If writing is not your cup of tea and you want to capture your memories, it is one of the best ghostwriting services.
John Vincent
I am extremely happy with the book from the company's ghostwriter. Perfect grammar, style, and attitude. It reflects my marketing knowledge perfectly.
Mary King
Love the final result and recommend them!
Christian O'Leary
Frequently asked questions
We're happy to resolve your questions and provide you with all types of information from how to deal with an idea that you have to how to publish your work.
It is a special type of narrative writing where you have to create a certain plot and a list of characters. All the content that you provide must be created entirely by you. Unlike non-fiction, it is not based on real-life events or people who exist. When you get in touch with fiction ghostwriters for hire, you may mix several writing techniques and combine various genres. In simple terms, fiction writing relates to made-up stories as you will learn from our experts by sharing your ideas and discussing what you would like to do.
Our fiction ghostwriters will start with determining the fiction type that will fit your vision. It takes place as a discussion in a way that is most suitable for you. You will receive an outline based on our talks. If you have a certain budget, we can show you what kind of work will fit within the writing process. We always keep in touch with you and will ask questions and alert you of any changes when they take place to make you feel confident and calm.
Our fiction ghostwriting services are made precisely for that. We know how to unfold your ideas and adjust things based on your notes and our discussions. As experienced ghost writers, we know how to match your vision and make it clear and accessible for the genre type. You do not have to be a writer as long as you are ready to talk and provide us with the notes and the basic information so that we can turn things into a book. Even if you do not know what type of fiction you would like or have no manuscript as of yet, just message our team and we shall catch on from there.
Ask us a question
When you have questions, concerns, suggestions, ask about your order, or share amazing ideas, feel free to contact us through the contact form below: