Hire a screenwriter online, who follows your vision
Finding a skilled screenwriter is no more difficult when you approach our specialists for your creative writing needs. When you need to create an amazing movie script or start with the script for the show, you're in the right place!
When you hire a screenwriter, it's also possible to approach related services to make your script stand out. Depending on your needs, feel free to get in touch to receive: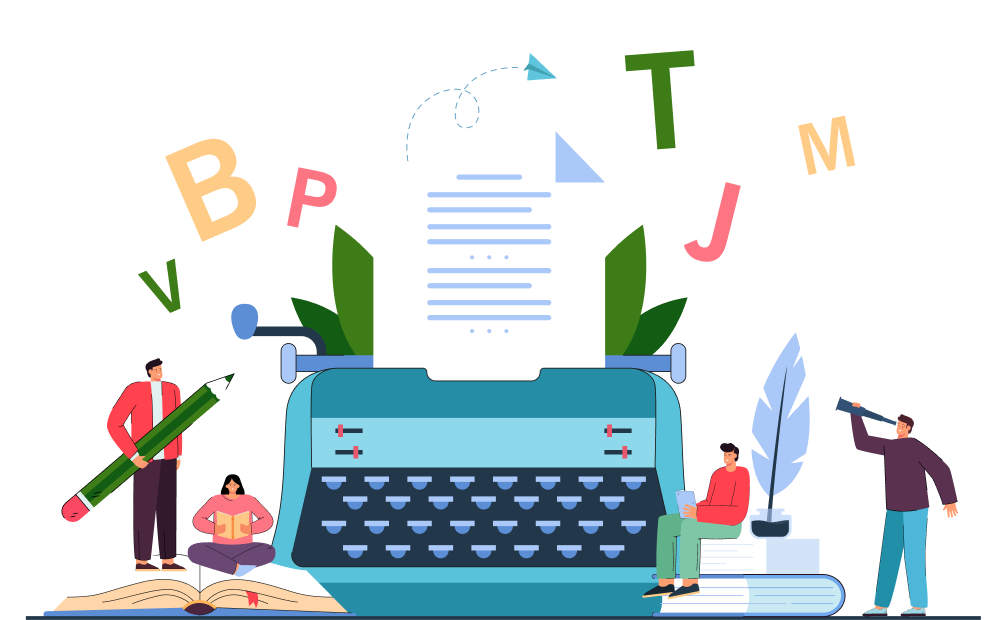 Our benefits
We are a reliable screenwriting service. We listen to your concerns and evaluate your ideas before any work starts.
Hire a screenwriter online who follows your vision
When you plan to hire a screenwriter, there are many challenging aspects to consider as things will always depend on your genre and the dialogue that will help to find an expert who can meet your vision and handle the tasks. The general role of the screenwriter is to outline and develop the screenplay for a movie, TV series, particular show, or TV drama. It's usually done based on an original idea or by turning to an already existing script that must be adjusted to modern times (when creating a remake or continuation of the series).
The most important is to remember the fundamentals of telling a good story and provide logic with the bridging transitions. There must be a logline that will help to make things inspiring. We know how to meet your vision and provide you with the correct structure that will fit your requirements and genre standards. Every screenwriter for hire will turn to discussions before any work starts and provide you with specialists that have worked with different genres. When you have a template or a bright idea for the screenwriter to start with, give us a shout and we shall complete your plans on time!
What are the differences between screenwriting and script writing?
Although many people may use these terms interchangeably, it is not the same thing! When you are looking for screenwriters, it means that you are dealing with specialists who create special scripts meant for use in movies and TV. Now when you seek a scriptwriter, it may also deal with the script for a television show that deals with politics or even relate to theaters with the relevant scripts. Although these are also known as screenplays, the primary objective is to determine whether one should adapt the content for the screen or not. Therefore, when you hire script writers, you must discuss this aspect in advance and determine what kind of target audience must be considered and what genre standards must be followed.
Depending on the format of the broadcasting station and the people behind the project, there may be certain restrictions and conventions that should be researched before the work starts. Summing things up, one may conclude that a script relates to the production and the presence of a certain outline that must be followed when the movie or a show runs. Working with script writers for hire may not involve specific data that is required for the actual production. Now, the work of screenwriters is related to the final outline which is way more complex than the script.
Why do people hire our screenwriters for hire?
The answer is rather simple: we are a creative team of professionals who work hard to meet your creative vision and unfold your plans in the best way possible. Regardless of where you may be with the idea for a script or a screenplay, we know how to assist you by helping you to have a great start as we follow you through every step of the creative process. Offering screenwriting services, we always employ only the best and most creative personalities to guarantee amazing quality while keeping our prices affordable. Every aspect is always being discussed as we set the deadlines and present you with the outline either based on your ideas or something that is outlined after the analysis stage. We believe that cooperation is only successful when every critical aspect is discussed thoroughly.
Our experienced screenwriters can handle any genre and know the writing and creative standards. You will be able to find a screenwriter who will match your inner vision. We shall be there for you all the time and provide you with all types of support and data collection in the best way possible that will match your time and budget. We keep all our services affordable and will work out the most efficient solution to match your needs!
What are the qualities of a good script writer?
The main quality that a qualified scriptwriter must possess is the art of storytelling. Depending on the genre in question, there are apparent standards that must be followed, yet it is often the person's creativity, risks, and going beyond the rules and limitations that help to achieve success. All our specialists know about the secret tricks that make a script successful and powerful. We are very strict about the writing quality and the adherence to existing standards. Therefore, every script writer for hire that you will encounter is a trained professional who will know how to handle your request and provide you with a clear outline that will be accessible and easy to understand.
Another quality is the ability to structure one's thoughts well and follow the logic and formatting of professional scriptwriting. It is a reason why our experts are tested all the time in terms of writing skills and ability to present thoughts clearly. It is a reason why every screenplay ghostwriter that you will find at our company will also proofread and edit the written content to ensure that it matches not only the logical but also linguistic standards and the sociocultural points of how something can be said or written when adapted to the screen version.
The important things that we include into the script
As you might be wondering about essential elements that must be included in a screenplay, we are happy to provide you with the general rules that our specialists always follow. As you work with the screenplay ghostwriters, they shall provide you with the following:
An explanation regarding how your screenplay can be formatted and how it might impact the readers or the film audience.
Provide you with screenplay examples that have been accepted by industry experts.
Offer various approaches related to structure and genre standards that must be followed.
Provide you with professional editing and proofreading services that will help you to prepare your content for publishing purposes.
Your screenplay writer for hire will calculate the most suitable solution based on your type of script with the help of discussions.
Show you the membership's presence in the industry's groups, which will make it easier to see the expected quality.
Samples of screenplays that they have created to provide you with an example of quality and attitude.
Keeping things unique and inspiring
We always keep things unique and ensure that no copyright infringements are taking place. We help you avoid these issues and check the final content through various algorithms to guarantee unique script writing. When you hire a script writer from us, we aim for creativity and things that always inspire!
If writing is not your cup of tea and you want to capture your memories, it is one of the best ghostwriting services.
John Vincent
I am extremely happy with the book from the company's ghostwriter. Perfect grammar, style, and attitude. It reflects my marketing knowledge perfectly.
Mary King
Love the final result and recommend them!
Christian O'Leary
Frequently asked questions
We're happy to resolve your questions and provide you with all types of information from how to deal with an idea that you have to how to publish your work.
When hiring a screenwriter, the person you will cooperate with will help you come up with themes and ideas based on your content requirements. Later on, an expert will research background material that will help to develop plots and characters. Once the cooperation starts, you will see how the screenplay can be laid out in the specified format before the outline for your ideas is provided. A screenwriter will also adjust things to inspire the producers. Some other work like content evaluation, editing, proofreading, and formatting will be done as well to help things look up to the genre's standards.
When you need a professional screenwriter or seek the best ways to hire a scriptwriter, the most important is to discuss your vision and outline the requirements. It will help you to determine the possible costs and the deadline. Every aspect can be adjusted to your needs as there are numerous options and offerings that our experts will provide you with. We can provide you with samples of our work to help you decide what kind of work is most suitable for your needs. If something is unclear, our movie script writers for hire resolve the issues by discussing them.
The majority of screenplay writers for hire will work with at least 90 pages of the standard written content. The screenplays can be up to 120 pages and more, depending on the formatting. If we approach things roughly, one minute of screen time is equal to one page. Therefore, a typical screenplay will range between 90 and 120 pages in length. It can be more or less, depending on the number of scenes and adaptation for the younger audiences.
Ask us a question
When you have questions, concerns, suggestions, ask about your order, or share amazing ideas, feel free to contact us through the contact form below: