When you have just finished writing a book, it is time to get things checked and ready for publishing! Even when you have already done the editing and proofreading, it's still necessary to format your manuscript according to the genre standards. It is where you may encounter certain eBook formatting challenges, especially if you are dealing with a digital publishing field. This guide will help you learn all the peculiarities of formatting an eBook by focusing on all the vital elements. We shall explain what must be known before you make the final choice and explore various digital formats with their advantages and shortcomings.
Why know about different eBook formatting?
If you have yet to deal with an eBook in the past, you will be surprised to know that Adobe's PDF format is one of the most popular mobi extensions for digital publishing. Learning how to format an eBook, you shall see that the major difference compared to books in print includes the clickable list of contents, special navigation, and work with images and other multimedia elements.
Some eBooks may include animated illustrations and video files, yet accessing such eBooks may require special hardware or software solutions. Considering the vast amount of eBook formats, this guide shall focus on the most popular solutions to ensure you know the basics about the most popular ones. Read on to find out how to format your eBook correctly and get things published!
Important eBook formatting things to consider before you start!
Before you start working on the formatting of an eBook, you must go through two major steps. The first step would be editing your writing and creating the navigation points. All of this will depend on the final formatting you plan to choose and the genre of the book you wish to publish. The second step would involve the conversion of your manuscript from an MS Word file to one of the popular formats and digital book store platforms.
Reading how to format eBook correctly, you shall see that these would include Amazon's Kindle, Apple Books, Google Play Books, and more. Alternatively, you may convert your manuscript into a set of HTML files that would be good for educational materials or scientific books. In such a case, you will have to include at least four files in relevant formats:
HTML files that represent your manuscript's content.
CSS file that represents a stylesheet with relevant formatting.
A metadata content.opf file that contains the cover, title page, author biography, character settings, language set, and the local settings for a hardware device.
A toc.ncx file that has a Table of Contents file that shows up when the readers press the TOC button.
While there is no universal eBook format, there are some of the most popular ones, depending on the device or app that you would use. We suggest taking you time to talk to various ghost book writers to determine suitable solutions. The key is to discuss things and see what may be the best fit for you. Let's start with the list of devices that will show you what to choose or explain how to format an eBook for Kindle that you may need:
Barnes & Noble Nook Reader and Nook Simple Touch. These will open .epub, .pdf, .html, .pdb, .prc, and Adobe's DRM. It won't open .azw, .txt, and MS Word formats.
Nook Color. It will open the same set of formats with the same limitations.
Kindle 2 and Kindle DX. It will open books in PDF, AZW, HTML, and TXT formats. Still, you won't be able to access .epub, .pdb, .prc, and MS Word formats.
Kindle Keyboard will open the same set of formats with the addition of .pdb and .prc files.
Kindle 4 and Kindle Touch devices will open all the aforementioned with the addition of .docx files, which is an important touch!
Kobo e-Reader will only open .epub and .pdf files.
Kobo Touch. It will open .epub, .pdf, .html, and .txt files.
Kobo WiFi. It opens the same files as Kobo Touch with the addition of .docx files.
Sony's e-Reader. It will open .epub, .pdf, and .txt files.
Now, you can also use various apps to read eBooks. Here is the basic rundown of files that your audience will be able to open:
iBooks will open EPUB and PDF.
Stanza will open EPUB and PDF.
Kindle App will only open Amazon's AZW files.
Barnes and Noble App will open EPUB, PDB, and PRC files.
Kobo will open PDF and EPUB.
Bluefire will open PDF and EPUB files.
Google Books App will open PDF and EPUB.
Sony's e-Reader will be able to access them too.
Note: Formatting an eBook, remember that Adobe's DRM protection is supported only by Kobo, BlueFire, and Sony's e-Reader.
Step-by-step eBook formatting guide
Before we continue any further, let's take a look at the basic eBook formatting rules that must be followed across various genres and manuscript types. Let's assume that you have an MS Word file with a readable manuscript that has already been edited. In such a case, you must:
Formatting eBook, use plain black text that implements font size 12 or 11.
It is recommended to use Times New Roman, Arial, or Verdana, according to the most popular fonts.
Recommended line spacing for most books must be either 1 or 1.5.
The use of graphics should depend on the eBook genre and formatting. Approaching an eBook editing service specialist will help you to see what kind of work must be done per your objectives.
Implement basic formatting options with accessibility to bold and italics.
Use standard eBook margins as they have been set by the original manuscript.
Add page breaks after each page to improve readability.
First of all, before you continue with an eBook preparation, open your manuscript in Microsoft Word or Google Docs, depending on the length and the original content that you have. Make sure to take a look at the final version of your book, yet do not worry, as you can always edit things later. It is one of those aspects that make eBooks so easy to edit, upload, and update once you have to add or remove something.
Step 1: Remove manuscript formatting.

Always keep a copy of the original manuscript before you start. This step is necessary to start from scratch and ensure that you avoid different fonts somewhere in the middle of a book. If you are using an MS Word file, select your manuscript's content and press CTRL+A. Then choose "Clear All". In Google Docs, just choose "Normal text". Now, choose the preferred font type and size!
Step 2: Remove automatic numbering
It's necessary to remove automatic numbering as one of the steps. Now, click the numbers icon as you wish to add them and start from scratch.
Step 3: Remove automatic dialogue lists.
Since many e-readers will have this feature already defined, your eBook may look messy. Therefore, the use of quotation marks may be a better option.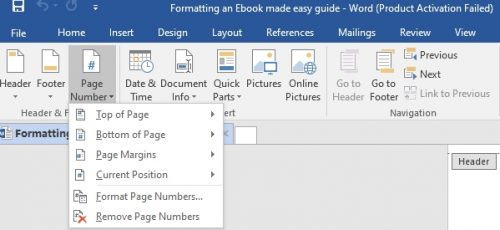 Remember to remove page numbers if you have any footers and headers. You can click on the top of the page by going to the Headers and Footers Menu. Once there, click on "Remove Page Numbers".
Step 5: Remove the table of contents.
It is usually made during the format conversion by setting specific page numbers and other aspects, depending on the eBook format automation in apps or hardware devices.
Step 6: Remove forced line breaks.

Go to the Home tab in MS Word and click the tiny ❡ icon that will help you display all the non-print characters: Double-spaces and paragraph breaks.
You should click on Find and replace any double spacing that you may have. Press CTRL+H and use the spacebar in the Find bar. Check the double-paragraph breaks, except when you need a scene break or have footnotes.
Step 8: Chapter on a new page.
While it's not obligatory, some authors may prefer starting a new chapter on a new page. Discuss this aspect with a publisher but do not leave too much space!
If you use images in your book, it's best to add them between two paragraphs and use a separate cursor line. You may have to turn off the image wrapping by clicking on Layout Options and then choosing Line With Text.
Now it's time to add the formatting back as you learn how to write an eBook and get things done. Luckily, free eBook formatting can be done in MS Word or Google Docs. Here is how to do it for your book's manuscript:
Step 1: Body Content. You may choose the 1 or 1.5 spacing for your text and add indents before a new paragraph. It is chosen right where you use the between-lines indent in MS Word.
Step 2: Headings. You can choose H1 heading for the name of the chapters. Just make sure that you always update the style as you edit.
Step 3: Direct Clickable Links. Ensure that you do not make direct links that are clickable, as some software and hardware apps may not allow that!
eBook formatting tips and recommendations
As a rule, there is no perfect format for eBook publishing. Still, providing files in PDF and EPub should be considered as one of the essential formats. While Adobe Acrobat is already known to most authors and writers, EPub is still relatively unknown for those who have not tried any of the digital formats before. An EPub is considered an electronic document for written content and multimedia files combined. As it stands for an "Electronic Publication," it should be one first option for eBook formatters to consider! Representing an archive, it contains a list of XHTML files that have all your content!
As a rule, it is still necessary to work with the manuscript the same way as it's mostly done with the help of Google Docs, MS Word, or any other Word processor. The only exception would be the addition of graphics and multimedia elements. As you talk to eBook ghostwriters online, many things will clarify themselves. Here are some other things to remember when formatting an eBook before you share it:
One of the best page sizes for eBooks is 8.5 inches x 11 inches, with the choice of a portrait orientation.
Recommended fonts include Times New Roman, point 12, Arial, or Verdana, point 11.
Remember that Kindle readers cannot access EPUB formats, so you must convert things to MOBI or AZW3 format.
Amazon's KDP file format that can be converted is limited to 650 MB. Any manuscripts larger than that won't be converted.
PDF files are universal and can be accessed easily online as you only have to download Adobe Acrobat free of charge. Just make sure to use DRM protection.
When you need an extra bit of help!
If you need help with starting point or wish to avoid working with your edited and complete manuscript, you can always approach one of our trained specialists. We are a friendly team who knows how to format and prepare your manuscript for a digital publication per required standards. The same is true for accessibility issues and various challenges related to a specific platform. We shall check every point and help you determine the best and most affordable solution. Having worked with hundreds of various books and genres, we know how to achieve success.
Regardless of whether you need ghostwriting assistance, professional editing, or preparation of a children's book for Barnes and Noble or Amazon Books, we shall do the best for you! All you have to do is to send us a message, and we shall get in touch to guide you through all the eBook formatting challenges!
FAQ
What is the most popular eBook format to consider?
One of the most popular formats you should consider is EPUB, which most software and hardware devices can access. Another popular format is PDF, yet there are certain limitations to remember. Now, if you are looking for a specific platform to access your eBook, see the relevant part of our formatting an eBook guide to see your options.
What format should I choose for adventure eBooks?
There are no genre-based requirements for eBooks. The only thing you should consider is accessibility. Therefore, you should look closer at formats like plain text or PDF. It means that every youngster can access your book free of charge. You should not be concerned about working with a specific genre. Focus on the use of graphics, fonts, and readability options instead.